Ironman Western Australia 2018
I was unsure after Hawaii if I would do Western Australia, it was in the back of my mind that if I had a good Kona I might come here and try and get an IM PB, I hoped I was in shape for it pre-Kona!!!
After Kona I had a 2 week break and then got back into training, I thought if the first week goes well and the training numbers are Ok then I'd give IMWA a shot to qualify for Kona 2019, in the back of my mind I still thought an IM PB was possible!
A good 3 week block later with lots of indoor heat training focussing on flat spinning and long flat treadmill runs I was in Busselton and eager to go.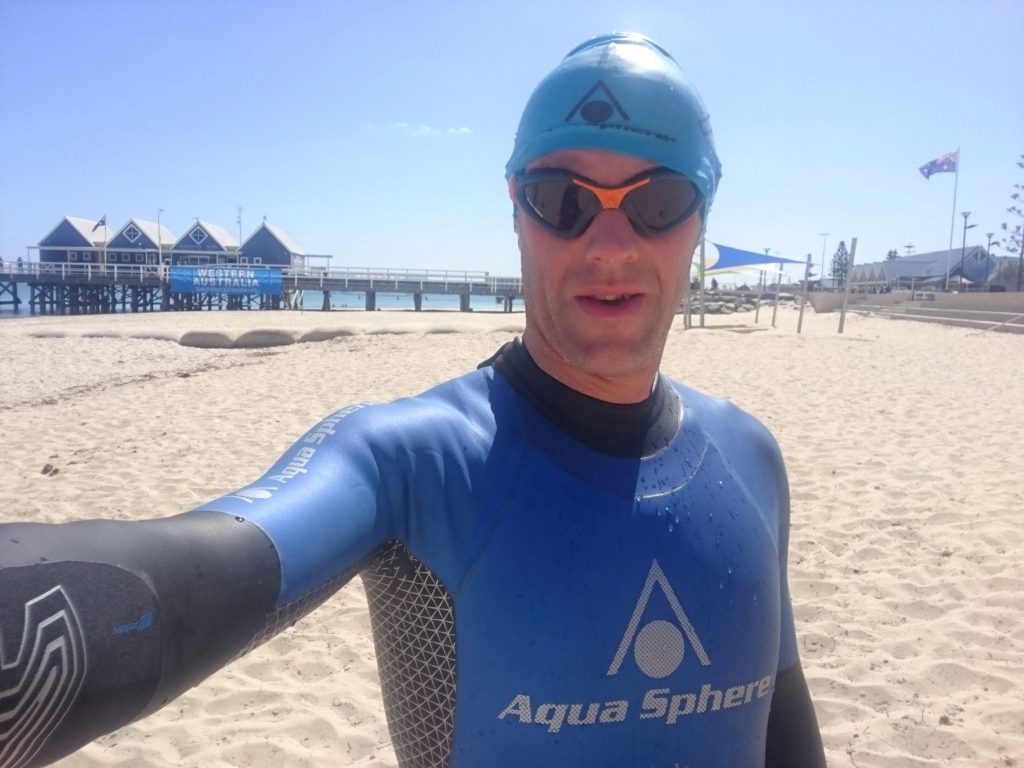 The revised swim course hopefully meant there would be no swim cancellation due to sharks like last year, but not guaranteed! A few good warm up swims in the #phantom wetsuit went well and felt great swimming outside in the sun again.
The morning dawned calm and still with a reasonable forecast of mid 20's temperature, a rolling start with self seeding meant a clean getaway, I was 2nd into the water which was great for a clean clear swim and allowed temporary drafting of the faster swimmers as they came through. (I prefer a mass start as later in the race you know where you are in relation to other competitors).
I had a great swim steady and enjoyable, at the halfway mark I started to think it felt long, this was confirmed when finishing the swim 57:16 is slow for me for a sea swim. A friend who normally swims about 53mins swam 56mins and the Garmin says it was long by 200m+ Great from a Kona qualifying perspective but not for an IM PB.
Onto the bike and get the head ready for 4+hrs of steady effort, the course is pretty flat with only about 300mtrs of up and down. The first lap went well keeping to my planned power it felt in control, finishing the first lap in 2:26 slightly down on hoped time but we'll within myself so I consciously upped the effort for the second lap. I knew I had the pacing right as I was pacing other athletes from the half way point onwards. The wind had picked up though so despite 2W higher average power the 2nd lap was slower than the first. All good though as I had biked within myself, all the long turbo spin sessions had payed of!
Not an IM pb time although I knew I was about 4th or 5th in age group so on course to qualify for Kona with 9 slots in my age group.
A quick transition and onto the run, all felt good setting a steady pace of about 3hrs 30 I knew was conservative but would be enough to qualify for Kona, and hopefully mean I could increase the pace in the 2nd half to potentially get that PB. At times I had to hold myself back to keep the HR down, all going well through half way but then I started to slow and started struggling. Obviously had gone to hard in the first half! A slow and slightly depressing end to the race saw me finish 10th in age group. With 9 slots in my age group I hoped I'd get my Kona slot on roll down and I did so mission accomplished.
I need to be honest with myself and admit that in hindsight I just hadn't done enough long bike and run bricks to hold a good marathon pace for the full distance, or I need to go easier on the bike. I had been running treadmill sessions at close to 3hr 5min marathon pace for 2hr 45 sessions so it's not the running pace that's the problem. Lots to work on and fix before Kona next year. Good part was no stomach cramps!
First it will be Celtman to get some legs strength and hill running in.
Kona Qualification

Day after Beer Mile!